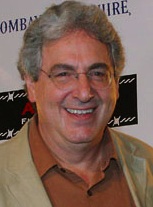 According to Entertainment Weekly, Jack Black, Harold Ramis, Michael Cera and Judd Apatow are teaming up with The Office writers Gene Stupnitsky and Lee Eisenberg for a new comedy called Year One.
I could take or leave Apatow, but I don't think it's too soon to call this the best comedy ever made. Ever. Made. Harold Ramis is just plain awesome, and Michael Cera is easily the funniest 19 year-old in the world. And though Jack Black has been in more mediocre movies than great ones, I just can't stop liking the guy–he's like an adorable puppy that you can't stay mad at.
No solid word on a plot just yet, but apparently it's about a "lazy hunter-gatherer who becomes the first modern man". Let's hope this dream-team doesn't pull a Congo on us.
Oh, hey… here's a great Believer interview with Harold Ramis.