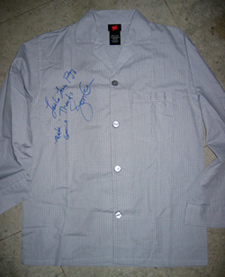 Here are the autographed Jon Gries pajamas we gave away as part of our "Jon Gries Day" contest with the Alamo Drafthouse. You'd be surprised how hard it is to find sufficiently ugly, Lazloesque pajamas these days though–the kids just don't wear 'em any more, so I settled on these ones. He also signed a Real Genius DVD, with the note, "I'm happy and sad for you".
In case you don't know, Jon is the fantastic character actor who plays Lazlo Hollyfeld, the closet-dwelling super brain in Real Genius and Uncle Rico, the steak throwing Tupperware salesman in Napoleon Dynamite, among many, many other awesome roles.
I only met Jon for quick minute while he signed the stuff, but he seemed like a really cool guy. Just as he was heading out to introduce the midnight showing of Terrorvision, a girl passed out on the stairs and he immediately stopped to help her, delaying the show for a good 15 minutes. Class act all the way.
I didn't make it to the actual Real Genius screening (which sucks because it is, in my opinion, one of the most criminally underrated 80s geek comedies in existence), but apparently the Alamo folks blew a million bags of popcorn into the crowd during the finale. The theatre was still completely full of popcorn when I got there, and for a second I swore I could still hear an echo of "Everybody wants to rule the world". Classic.