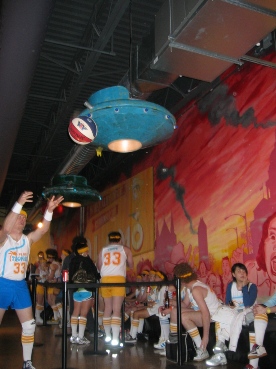 The Alamo Drafthouse is the kind of place where you might walk out of a Saturday matinée of Spiderwick Chronicles and step right into the middle of an impromptu basketball game being played in the lobby.
In this photo, Alamo co-owner Tim League tosses a granny shot at the temporary net, which was set up for last night's sneak screening of Semi-Pro. In order to get into the screening, all attendees were required to wear "Flint Tropics" basketball uniforms–which actually ended up being really hilarious.
Austinist writer and all-around badass Tom Thornton had a quick chat with star Will Ferrell, who was in town for the screening (and who was incredibly impressed that we all actually wore uniforms). The interview will run this week on Austinist, along with some photos.
UPDATE: Here is Tom's quick interview with Ferrell, and here are a whole bunch of great photos from the event, including a "Team Photo" of Will with the entire audience (I'm kinda right behind him, wearing glasses).