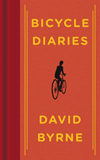 If you know me well, you've probably heard me yammer on about my interest in urban planning and traffic. And from those conversations, you've probably surmised–correctly–that I know absolutely nothing about the subject.
Still, that doesn't stop me from being deeply interested in cities. And I was jazzed to hear that Talking Head, Visual Artist and Author David Byrne will be visiting Austin this month to discuss cycling, cities and the urban experience.
The appearance is part of an 8 city lecture tour promoting Byrne's new book, Bicycle Diaries, which comes out this Thursday (Sep. 27) here in the States. The book details Byrne's adventures as an avid, traveling cyclist (he has one of those wacky folding bikes) and an enthusiastic admirer of cities in general. And at each stop, he'll converse with a local civic leader, urban theorist, and bicycle advocate.
The tour also includes a stop in Toronto, where Byrne will chat with NDP leader Jack Layton, among others. That'd be great. Of course, the Austin stop is smack dab in the middle of Fantastic Fest, which kinda sucks. But this seems like too cool an opportunity to pass up, so, yeah.