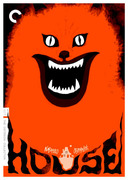 If you haven't seen Nobuhiko Obayashi's severely bonkers 1977 horror / comedy / fantasy masterpiece Hausu, you need to. Immediately.
It's hard to believe that a movie so sublimely ridiculous, thoroughly violent and unwaveringly fun could have sat on a shelf for so long. But thanks to Janus films, new prints have been touring theaters for the past year or so (you can still catch it on the big screen!), and Criterion will be releasing it on DVD/Blu-Ray this October.
It's impossible to do this movie justice with a short description–the writeup on the Criterion site ventures, "an episode of Scooby-Doo as directed by Mario Bava", which is probably as close as you'll get. But try the trailer on for size if you want an idea of just how bizarre and awesome this thing is.