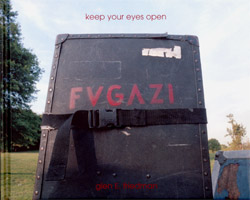 It's been almost twenty years since Fugazi played their first show. Can you believe that? TWENTY YEARS. But even two decades on, Fugazi still seem more vital and relevant then 99% of music being made today–this despite the fact that they've been on an "indefinite hiatus" for several years now.
Even though you won't be seeing Fugazi play a live show any time soon, you can at least revisit their history though the photographs of Glen E. Friedman, whose new book Keep Your Eyes Open: The Fugazi Photographs comes out September 3rd.
In case you've never heard of him, Friedman was basically the official photographer of the early punk and hip-hop movements, faithfully following bands like Fugazi, Black Flag, Public Enemy, Dead Kennedys and RUN DMC long before most of them were the significant cultural forces they eventually became. Friedman also had a huge impact on the early skate scene, and along with Craig Stecyk was one of the principal documentarians of the late-70s west coast skateboard movement.
In short: this book is going to kill. It also includes a 6000 word essay, written by Ian Svenonius (of Nation of Ulysses / Make-up / Weird War fame). You can pre-order your copy from the Dischord website for $25.