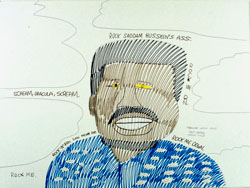 On Tuesday, the folks over at SXSW announced their Feature Film lineup for 2008 (the shorts lineup will be announced next week). The whole list looks pretty great, but I've made notes on a few titles that jumped out at me on the first pass.
On the documentary front: American Teen, a doc about, um, American Teens, got a deafening amount of Sundance buzz, and was quickly picked up by Sony Classics. Ellen Spiro & Phil Donahue's Oscar-shortlisted Body of War looks pretty great, and Spiro is an Austinite, which is cool. Speaking of Austinites, Margaret Brown's The Order of Myths also got a warm Sundance reception, which comes as no surprise–her Townes Van Zandt doc Be Here to Love Me was quite good. Morgan Spurlock's Where In The World is Osama Bin Laden? is also bound to be fun, in a Spurlockian way. And I'm interested to see the Harlan Ellison doc Dreams With Sharp Teeth–Ellison is also speaking at the festival, which should be interesting if not downright awesome.
On the music front: Julian Schnabel's concert doc Lou Reed's Berlin will probably be awesome–and it seems kind of fitting that Schnabel directed this, since both artists seem to polarize critics. Grant Gee's Toronto FF hit Joy Division is supposedly very good (and if I'm not mistaken, it was bought by the Weinstein Company, so you may see it in theatres or on DVD soon). Martin Scorsese's Rolling Stones doc Shine a Light will probably start out brilliantly, then severely overstay its welcome. But for me, the most exciting music title is Wesley Willis' Joyrides, a documentary portrait of the late great musician.
On the narrative front: The big screen adaptation of Chuck Palahniuk's Choke could be good, or could be awful. Mister Lonely, a movie about a lonely Michael Jackson impersonator co-starring Werner Herzog looks both bizarre and fantastic. Run Fat Boy Run isn't normally the kind of comedy I go for, but it was written by Michael Ian Black and Simon Pegg, so it can't be bad, can it? Kimberly Peirce's long-awaited follow-up to Boys Don't Cry called Stop-Loss loses major points for using a Drowning Pool song in the trailer, but will hopefully be good anyway. Sergei Bodrov's Mongol, the first in a trilogy of films about Genghis Khan, looks epic and bloody. According to Micheal Tully, Mary Bronstein's Yeast is "one of the most exciting and electrifying feature film debuts you will see this year"–and if it's anything like her husband Ronnie's SXSW 07 fave Frownland, I'd tend to believe him. I'm also excited about David and Nathan Zellner's Goliath, which screened at Austin Studios as a work-in-progress recently, and looks great.
Of course, this is just a first pass. And it already looks like my SXSW schedule is going to be impossible to keep up with.