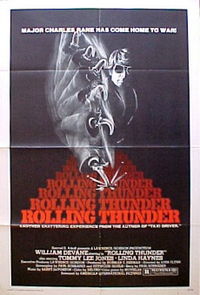 First, the biggest news in the watch online universe: Netflix has partnered with a third party company called Roku to develop a Netflix Watch Instantly appliance. Basically, you plug one end into the internet, and the other end into your TV, allowing you to play unlimited "Watch Instantly" titles through your boob tube (assuming you have a Netflix subscription).
This may not seem like huge news at first, but trust me, it's an absolutely brilliant move on Netflix's part (further expanding the functionality and value of their system), and it clearly signals the beginning of the end for standard VOD as it's currently delivered by cable companies. Solid.
But what I really wanted to tell you about was this: the Paul Schrader-penned, John Flynn-Directed classic Rolling Thunder is now available to watch online. This is pretty big news, because it was previously difficult to find in any form at all. Also, because it's fucking awesome.
The always brilliant Aphanisis Blog has a much better description of the film than I could ever muster, but I will tell you this: both William Devane and Tommy Lee Jones are at their absolute best, and I think I actually like Rolling Thunder more than Schrader's more well-known scripts Taxi Driver and Raging Bull. And I completely love Taxi Driver, so that's saying a lot.