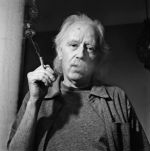 This coming April, genre heavyweight John Carpenter will visit Dallas for Texas Frightmare Weekend 2010–the homegrown horror convention's 5th anniversary.
With a long list of genuine, certified classics (um… Halloween, Christine, The Thing, Assault on Precinct 13), as well as a solid roster of cult faves (Escape from New York, They Live, Big Trouble in Little China), Carpenter is pretty much a living legend. His synth-powered fright flicks and gritty action comedies are usually brilliant, and always fun. And the prospect of having him autograph a They Live poster makes my inner fanboy smile. I even loved Vampires, his roundly panned bloodsucker flick starring James Woods.
I visited the TFW convention in 08, and it was pretty good. The venue was a little bit odd, and the film screening setup was lackluster, but everything else was good, and they've moved since then, so who knows. A bit of advice though…if you've got the extra money and you love autographs, get a fancy VIP badge. Not having to wait in line could literally save you hours.
Other guests for 2010 include George Romero, William Katt (House and House IV), Lance Henriksen (Pumpkinhead, Near Dark, Aliens), Kane Hodder (Friday the 13th), Sid Haig and Bill Moseley (those Rob Zombie movies and whatnot), Margot Kidder (Superman) and Doug Bradley (Hellraiser). The convention runs from April 30 to May 2.