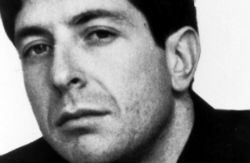 For this week only, Pitchfork has a free stream of Ladies and Gentlemen, Mr. Leonard Cohen, a 1965 documentary portrait of the famed poet, author and musician.
Though the film contains almost none of Cohen's music (he didn't release his first record until two years after the film was released), it's a thoroughly interesting and surprisingly intimate portrait of the now 75 year-old artist as a young man. Shot on one of Cohen's visits to his hometown of Montreal (he was living in Greece at the time), the film follows him to pubs, poetry readings and hotel rooms, where he candidly discusses life, friendship and art. It's a great way to spend an hour–but if you're anything like me, it'll leave you with a strong urge to visit Montreal, and to re-read Beautiful Losers.
If you hate Pitchfork (or if you miss their one-week window), you can also stream Ladies and Gentlemen from the National Film Board of Canada's site. If you want to own it, you can buy a DVD copy, which apparently contains some extra material.