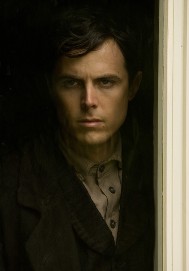 Fantastic Fest got started a day early this year with a surprise screening of Andrew Dominik's The Assassination of Jesse James by the Coward Robert Ford. The screening was hosted by Dominik and Casey Affleck, who stars in the film alongside Brad Pitt, Sam Rockwell and Sam Shepard, among others.
The Assassination is awfully lengthy and slow, but ultimately worth the time spent. For a western, it's not incredibly exciting or gritty–I might even describe it as "dreamlike" or melancholy–but its glacial pace is completely necessary to telling the story, I think.
Rather than make James out to be a hero, as most James-based westerns do, the film instead focuses on his friends and family–particularly the man who would eventually shoot him in the back, Robert Ford. And being semi-poor southern folk from the 1800s, the characters aren't particularly wordy–so most of the story is told through body language, movement and tone.
There are some great performances in there… you just have to be willing to wait for them. I personally like Casey Affleck a lot, and I hope his turn in Gone Baby Gone is as good as his performance here. Brad Pitt and Sam Rockwell are also great, and I was excited to see a short appearance by Nick Cave (who wrote the music for the film along with his longtime Bad Seeds cohort Warren Ellis).
So it was a fun night overall–and this is only the first surprise of the festival. There'll be four more big time secret screenings, and if any of my hunches are right, we're in for a completely amazing festival.