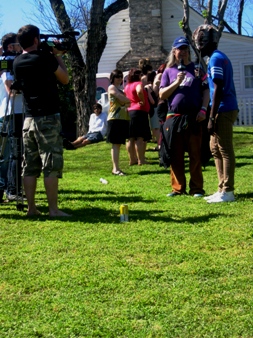 I didn't get to do all that much at SXSW this year (hence the lack of updates this past couple weeks), but I did find time to see a lot of good movies at the film fest.
The real standout for me was They Killed Sister Dorothy, the bizarre true story of a missionary nun murdered by ranchers deep in the heart of the Brazilian Rain Forest. It's really good.
I saw a bunch more movies, and you can read about them in my SXSW recap for Austinist. Not nearly as many as I'd have liked, but what are you gonna do?
On the musical side, I didn't get to see much either. Most disappointingly, I missed the new John Reis project Night Marchers on two consecutive days, and somehow missed J Mascis despite having arrived at the venue an hour before his set, AND having watched him be interviewed for MTV2 (pictured). How does that happen? But I did get to see Yo La Tengo at the Parish (probably Austin's best-sounding venue), Aloha and Shearwater at Waterloo Park, and Thurston Moore at the French Legation Museum (which looks like it'd be a great place to have a wedding).
Oh yeah–and on Sunday, we saw J Mascis walking alone down sixth street, and Chris failed to invite him to lunch. Way to go, Chris.