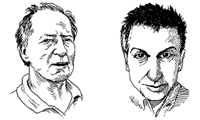 Though it's been out for more than two months now (I'm a bit behind on my reading lately), there's a great conversation between Werner Herzog and Errol Morris in the March/April issue of The Believer. And because The Believer is quite possibly the best magazine ever, you can read the full text online.
Near the beginning, Morris comments that Herzog's films could be considered extended essays on "meaninglessness"–which is completely true, I think. But what's great about Herzog is how he faces that meaninglessness: with wide-eyed wonder and genuine, unflappable excitement. He just seems like the most awesome human being ever, and I'm currently lining up some more Herzog interviews to read and watch (like this one, with a visibly intimidated Henry Rollins.)
It's also well worth noting that Errol Morris' Abu Ghraib doc Standard Operating Procedure is hitting theaters right about now. It's not in Austin yet, but Morris was at a Houston Landmark Theatre tonight (I believe) for a special screening. Lucky.
UPDATE: Here's a recent Slant Magazine interview with Morris. The interview is just okay, but in it Morris says something I really connected with:
"The criticism I would hear again and again and again would be that the attitude I had about the people in Vernon and Gates of Heaven was unconscionable. That puzzled me. I often thought, well, both movies are funny, and the fact that people find them funny embarrasses them. They don't like laughing, they think it's a guilty pleasure and hence would like to blame me for it. But I like [the] people in [my] movies. I absolutely love all those people, and have no desire to condescend to them."
In the past, I've tried–albeit less elegantly–to say this about the average reaction to Todd Solondz's films. And while Morris might not agree with my application of his idea, it's just cool to hear someone say it so plainly.