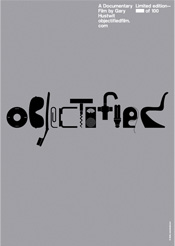 The trailer for Gary Hustwit's new industrial design documentary Objectified is up at Gizmodo, and it looks great–kind of like a filmic Design of Everyday Things (but suspiciously lacking an appearance by Don Norman).
Though Hustwit's name isn't on the website yet, he'll be appearing in some capacity at this year's South By Southwest, and I'll be surprised if Objectified isn't screening as well.
If you're a big fan of Gary's, and if you've got some money to throw around, you can get your name in Objectified's credits (plus a whole bunch of other fun swag) for a cool $500 donation to the film, which is currently in post-production.
In case you think that a documentary about industrial design is boring, keep in mind that Hustwit is the man behind the hugely entertaining typeface doc Helvetica. He's also one of the principals at Plexifilm, arguably the best documentary DVD label in North America.
UPDATE: Objectified will indeed be screening at SXSW this year. I'm going to get in line right now.