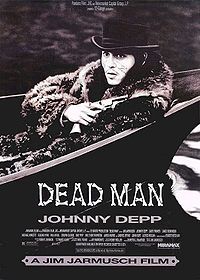 Next Sunday (September 6th), they're screening two great movies at the Alamo: Jim Jarmusch's bizarro western masterpiece Dead Man, and Dario Argento's horror-as-high-art classic Deep Red. Both are worth seeing, and though I own them both on DVD, I'm still bummed to be missing these rare theatrical screenings.
Dead Man is the film that got me interested in Jarmusch, and the strange, bleak, existential western still impresses well over a decade later. The opening scene's ridiculous (in a good way) performance by Crispin Glover is, on its own, worth the price of admission. And the electric (but somehow timeless) score by Neil Young is the icing on the cake. Besides Edward Scissorhands, this is Johnny Depp's best role, and, I think, Jarmusch's best film.
Deep Red was one of the last Argento films I saw–even after seeing Mother of Tears. So I have a deeper affection for Suspiria, I think (as I've spent a lot more time with it). But I can tell you that Red is a fantastic, near-perfect example of Argento's mad genius. And that a hell of a lot of people think it's his masterwork.
So if you're in Austin this weekend, I'd recommend hunkering down at the Ritz Sunday night. These two classics will make a great (but very dark) double-bill.